hey guys!  i have some instagrams for ya.  quite a few, actually.  i've been super busy so i have a lot of catching up to do tonight.  so sit back and relax and enjoy the view...
left-right:
1. i got in some much needed swimming before the pools closed down for the season.  too bad my heart rate monitor doesn't work in the water.  i am so curious how many calories i burn swimming since i always feel so worn out afterward.  2. collecting light.  3. waiting on the rain.  4. hotwheels.  
1. the sweetest baby squirrel with a too-sad-to-tell story.  i named her charlotte and basically, the overnight girl at the vet killed her for no reason.  she was fine and doing well and they euthanized her thinking that is why i brought her in.  in reality, the morning vet was a squirrel specialist and had already checked her out and gave her a clean bill of health.  i took her home and waited for the mom to return, which she did not, then brought her back to the vet that night so the vet could take her in the morning.  i feel very guilty for leaving her with that lunatic and i shed some tears for that poor girl.  trust me when i say i lost my mind on them.  2.  tea time.  3.  the end of summer.  4.  the sweetest!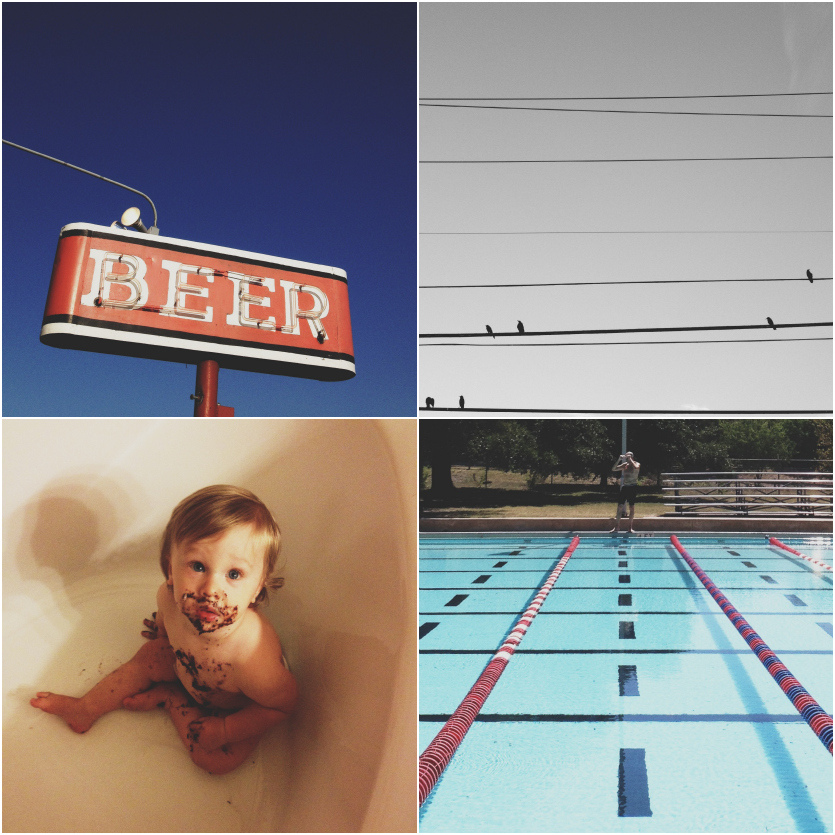 1. a to-the-point sign.  2. on a wire.  3. one year old mr. grady blake, covered in chocolate cake.  (my high school best friend's son.  4.  laps.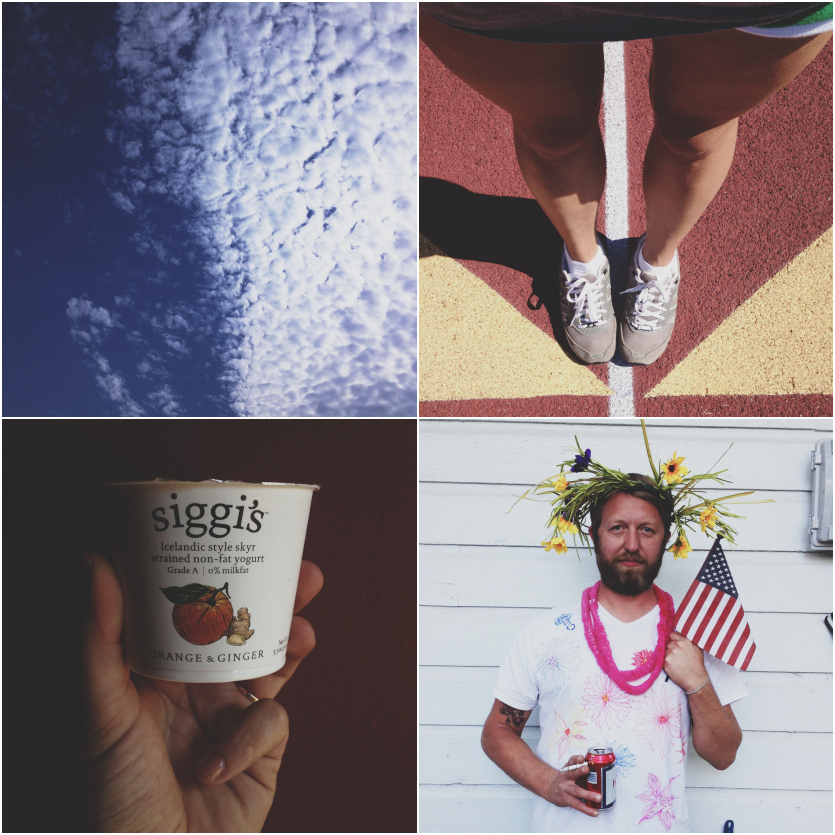 1.  down the middle.  2. from where i run.  3.  new favorite (orange & ginger)  4.  noah turns 40.  i have known noah for at least 11 years.  he is the greatest!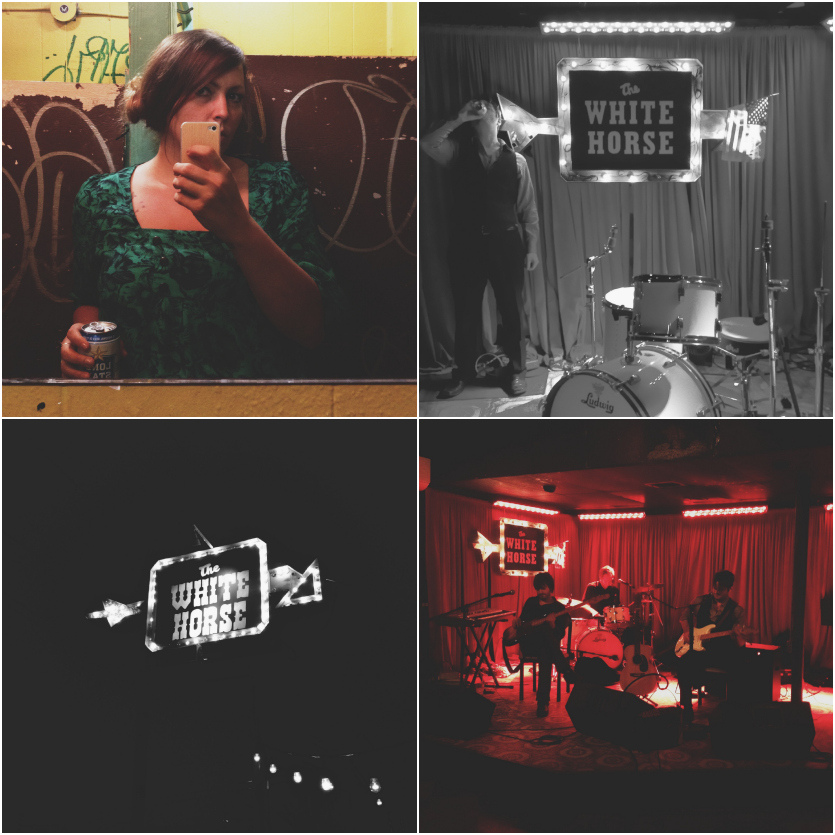 1.  white horse bathroom mirror.  2. jordan.  3.  the white horse (my friends denis and nate opened this place up last year.  4.  and my friends jordan and ian play each tuesday.  they are called mrs. glass.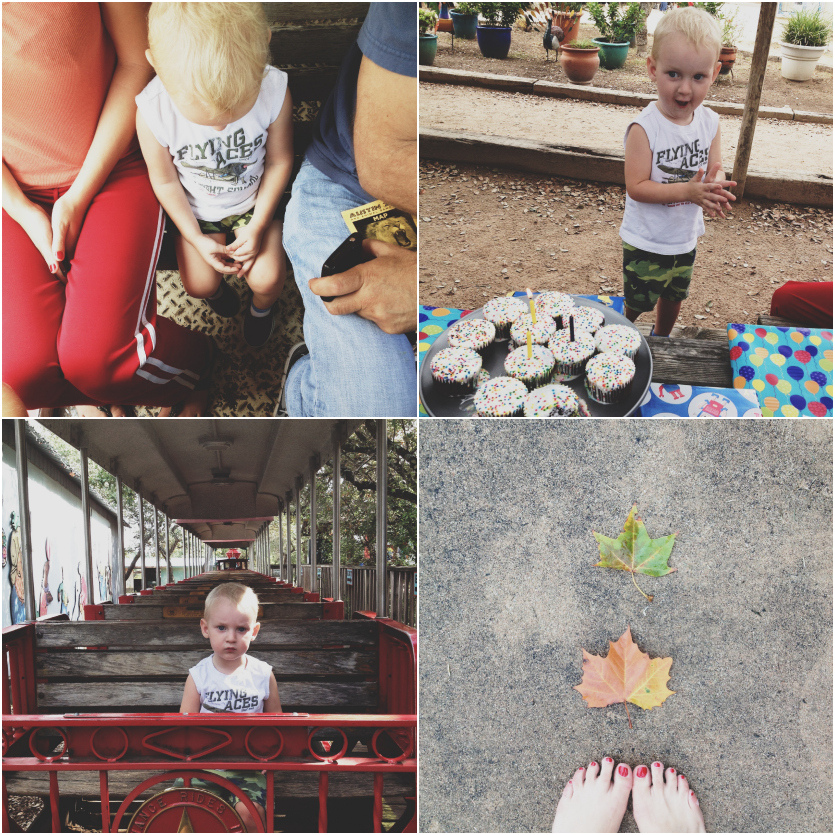 1.  my nephew eli turned two on the 13th!  we went to the austin zoo to celebrate.  he was really more interested in the small vehicles parked in various spots the employees use to get around the zoo.  he would shout "tractor!".  no interest in the lion.  "tractor!"  he would say "ew!" at most of the animals.  2.  he did get quite excited about his cupcakes and mostly about us singing "happy birthday" to him.  we did several times that day and he would do a little dance.   he is the cutest!  3.  we also rode the train and that was a pretty big deal for him.  some real serious business with trucks, trains and tractors.  4.  fall.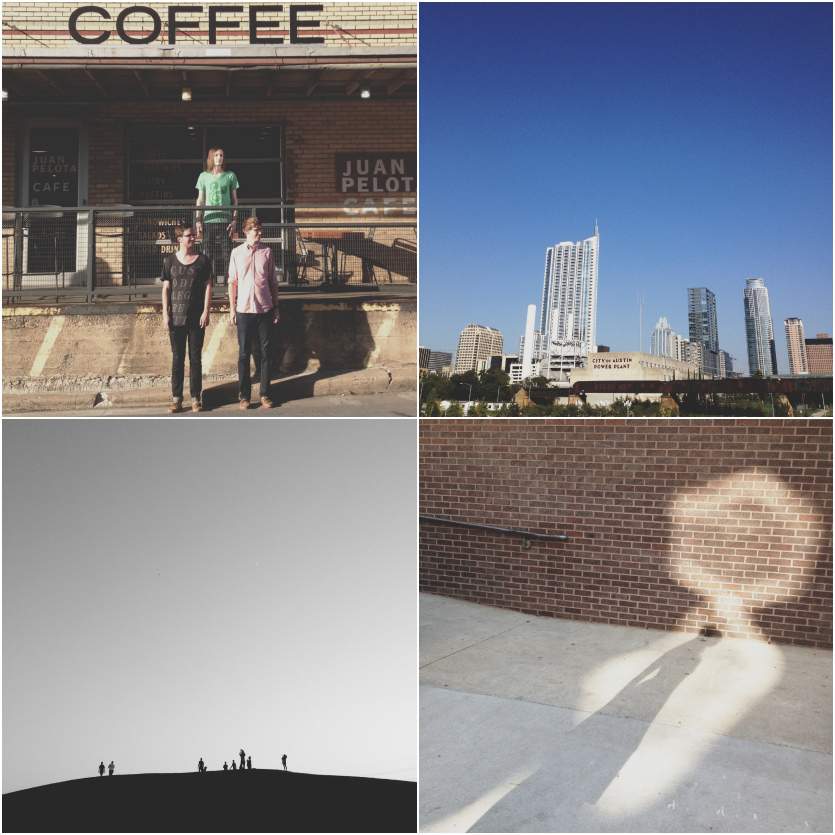 1.  i had an awesome (but totally out of my comfort zone) opportunity a couple weeks ago to do an "insta-meet" (instagram meet-up) with cory staudacher (@withhearts), thomas guy (@thomasguy) and a few other super nice folks @findfarah @seanwes & @geoffduncan.   it was so fun!  we walked around town lake hanging and snapping some photos.  i almost bailed at the last minute but i am really glad i stuck around.  all four above images are from that day.   the first one being cory, thomas and sean in front of juan pelote coffee.  2. austin, texas.  3. doug sahm hill (which we dubbed sahmhilldifferentday) 4. farah collecting light.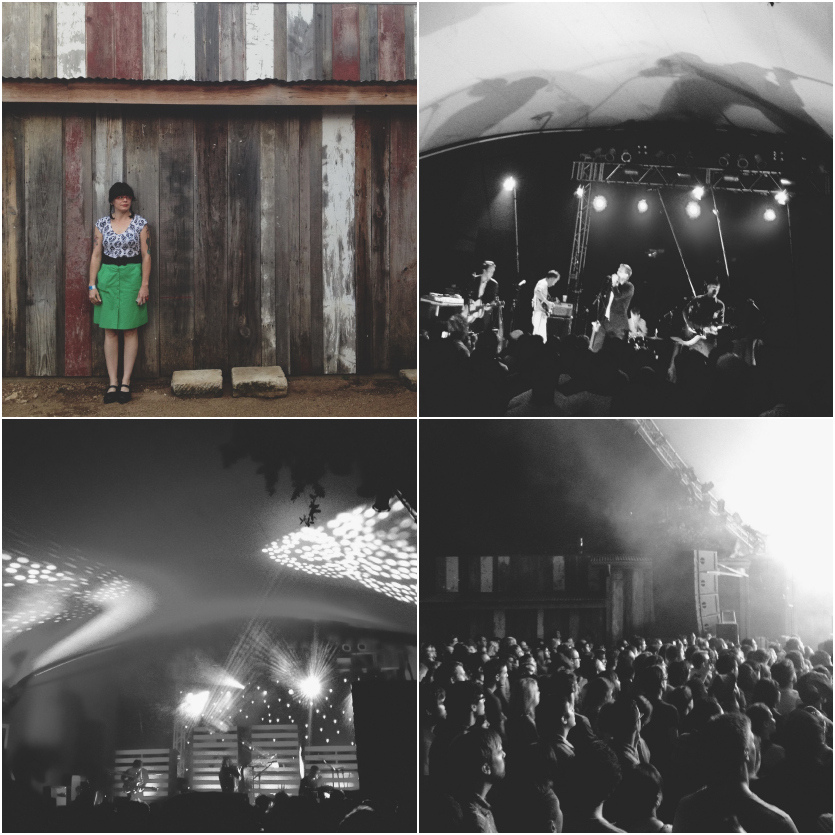 1.  for my birthday, this lovely lady here (shannon) bought us tickets to the beach house/walkmen show at stubbs.  it was SO RAD!  i don't know if i remember having that much fun at a concert ever.  i love both of these bands immensely and it was better than i could have ever imagined.  2. the walkmen.  3.  beach house.  4.  the crowd.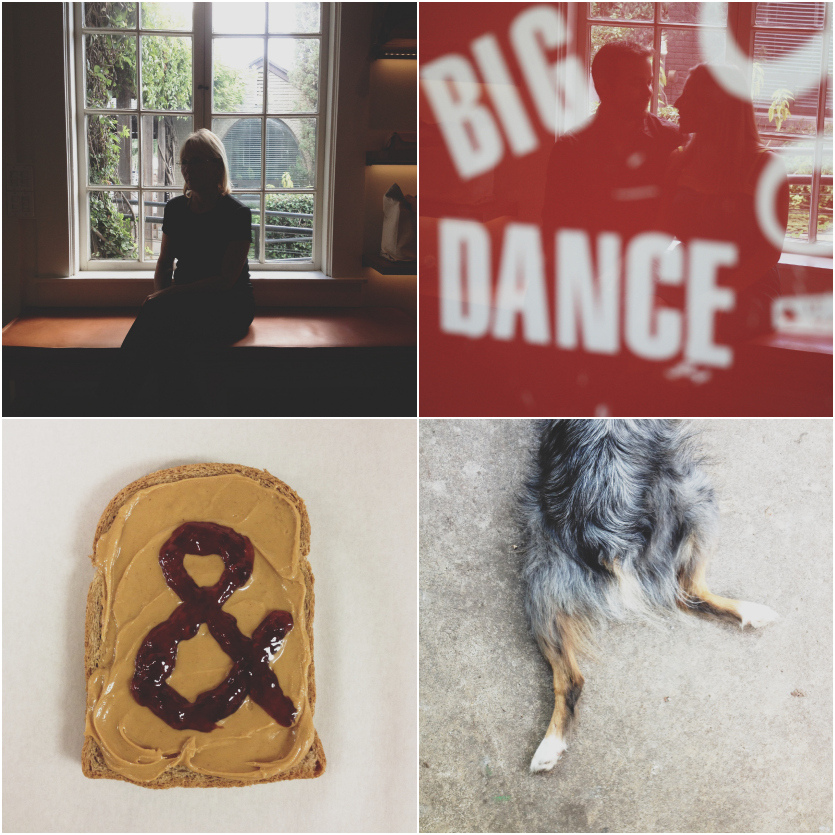 1. my mother @ hotel san jose.  2.  i did a little engagement shoot for my sister and her fiance john last week.  i can't post any more pictures besides this little teaser because we don't know what will get used on the save the dates etc.  i am really happy with how they turned out, though.  we are going to schedule another shoot outdoors for some individual shots for their website.  this shoot was extra special because i LOVE hotel san jose and we were able to go inside the gates and shoot.  normally they only allow people to shoot outside the gates on the vine walls.  but i really want to live at this hotel.  they have the best drinks and the absolute best design and and atmosphere of any hotel i have ever been to.  if you ever visit austin, you MUST stay there.  3.  peanut butter &&&& jelly.  4.  weekend plans with oliver.  the new front-house roommate lindsey (lives with shannon) moved in at the beginning of september and she has two precious dogs named oliver and ari.  eleanor LOVES oliver and they run and run and play and run until they both pass out and can't move anymore.  it's the perfect solution for everyone.  wear those kids out!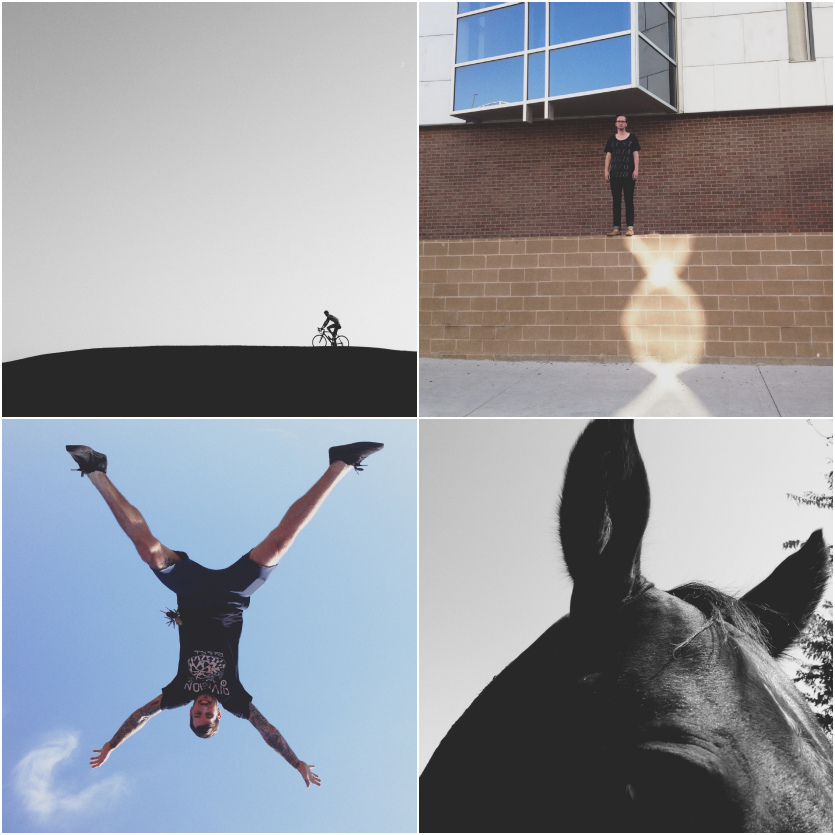 1. more sahmhilldifferent day.  2.  cory.  3.  justin helped me out with a little instagram challenge for "upside-down" i love the happy accident where his hand looks like it's pushing the cloud away.  4.  this guy. 
1.  anya helped me out for another instagram challenge for "down the middle" i got first runner up with this picture.  yay!  the contest was a little thing theron humphrey was curating last week.  (more on him in a bit) 2. marc & leon.  marc turned 32 on the 16th.  3.  more marc at 29th street ballroom.  4.  new friends.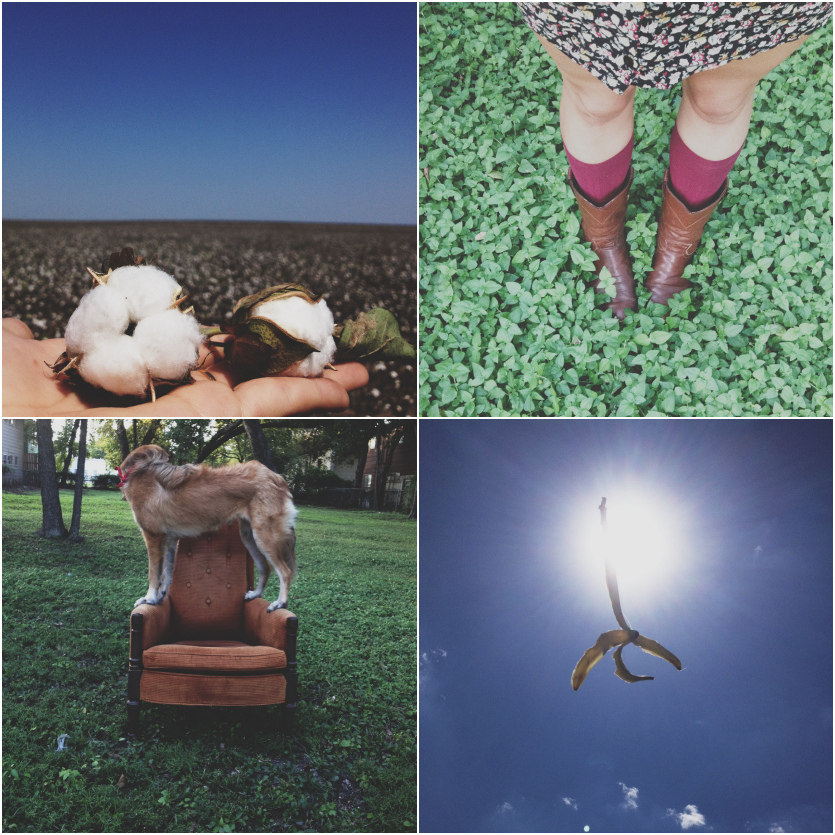 1.  fresh cotton puffs.  2.  from where i stand.  3. eleanor is a little rusty.  4.  banana toss: to the sun.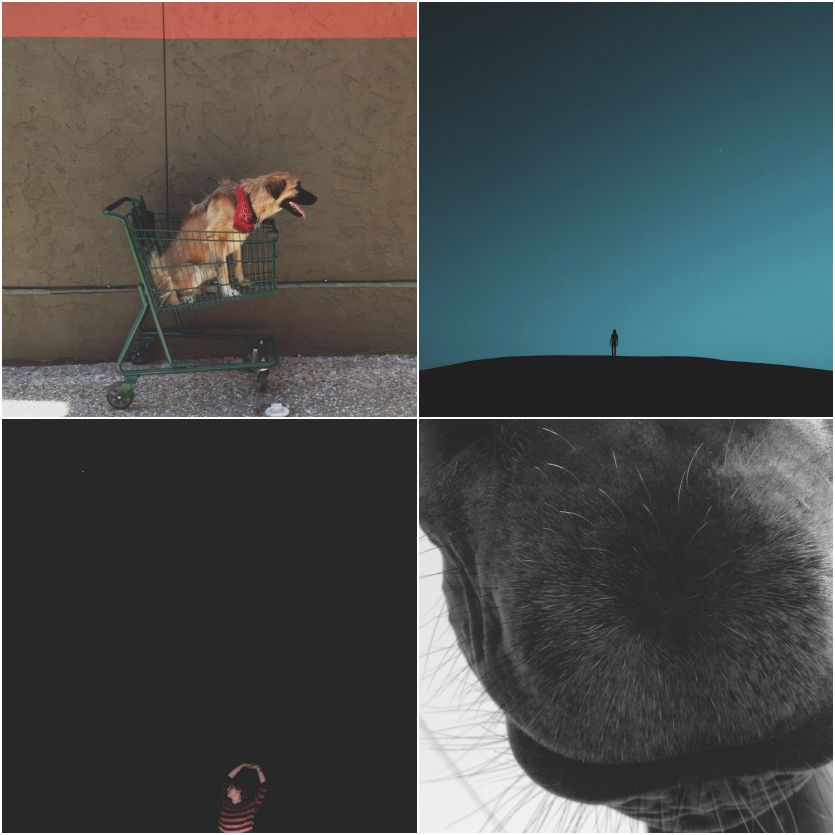 1.  express lane with eleanor.  2. sahm hill different say with sean mccabe (@seanwes) 3. drive unti there is nothing.  this was another entry for an instagram contest.  i drove out to the country and this was lit with my headlights.  a bit hard to balance my phone with a timer using my make-up bag to keep it upright but i like it.  and i like the two small stars you can see.  4.  another friend.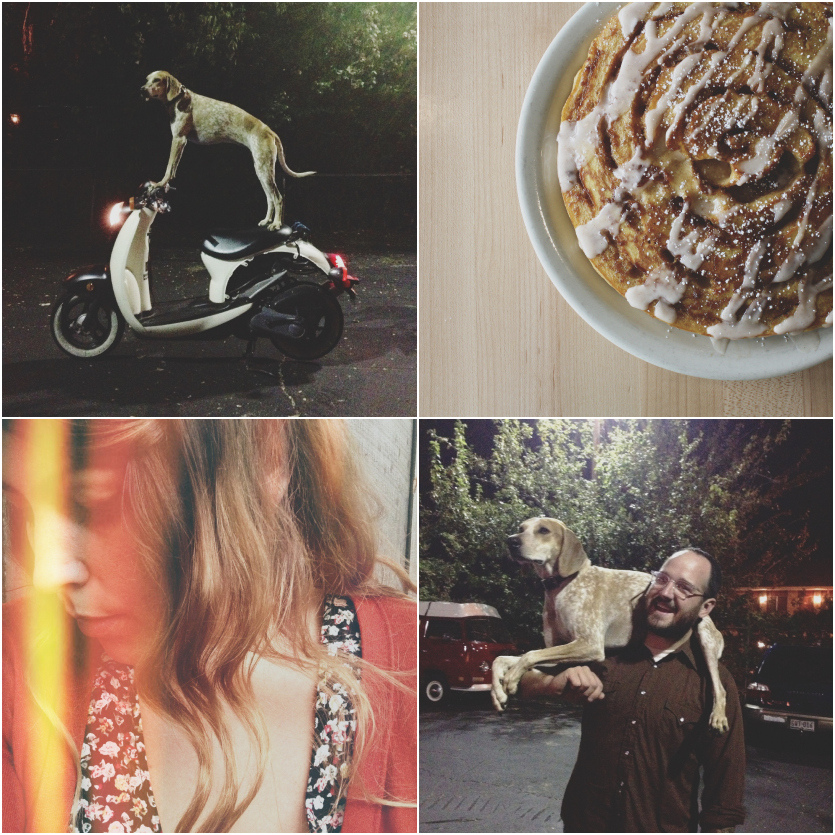 1.  guess who i got to meet!  maddie! from maddie on things!  theron humphrey @thiswildidea was in town doing a shoot for his book cover (for maddie on things) and we met up for drinks and some food.  he is really the nicest, most genuine, inspiring and wonderful person i have ever met.  i should mention he is quite handsome as well, but you can see that.  and maddie is pretty great herself.  i have been a big fan of theron and maddie for at least a year now, so needless to say, it was really awesome to meet them.  theron makes me feel like i can do more than what i am doing.  like there is more out there.  (more on that in a minute)  2.  my pumpkin cinnamon roll pancakes.  these will roll out at kerbey lane cafe toward the end of october.  they are nothing short of a dream.  3.  me.  4.  theron and maddie!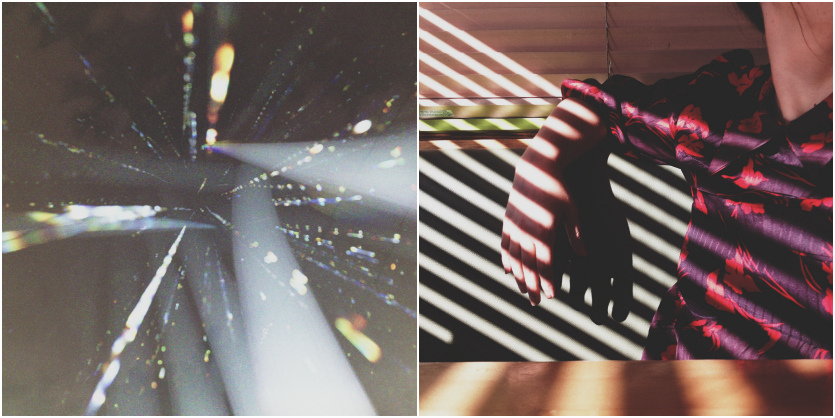 1. hard rains and slow shutters.  2.  collecting light. 
so as you can see i have been very busy.  so sorry for the lack of posts but there is no end in sight to how busy i am right now.  it's good busy!  i will try to stay more regular with my postings so i don't have to make these HUGE long posts that are difficult to read through.  so much stuff on the horizon.  
the biggest thing i am working on is bigger than big.  it's bigger than me.  i have officially decided that in september of 2013, i will be leaving on a one-year trip across the country.  it will be me and my friend amanda and at this point i cannot give any more info on what that will involve.  because we are still planning and brainstorming this..big-huge-thing and i don't want to give details that might be tweaked or changed.  we have been trying to decide how we were going to do this, then along came theron.  he told me "you need to have a purpose" and he asked me "what do you create?" and those things rung through me and changed everything.  but i think i finally found what i am supposed to do.  i think i found "my purpose" and what i want to create.  i will, of course, keep you updated as this progresses.  i am going to find a way to make this happen.  i am going to put every single part of me into this.  everything. 
i hope you all have a lovely day.  and i hope something lights a fire under you that you can get excited about.  something that changes everything.  
xo
emily